Restaurant Menus in the Bethel, Maine area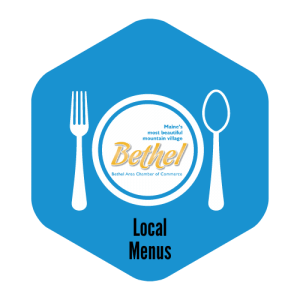 Use the links below to peruse menus for restaurants in our local area - including Bethel, Newry, Sunday River, Greenwood, Woodstock, Hanover, Mt. Abram, and other nearby towns in Western Maine.
Wondering what's open each day of the week? Visit the What's Open page to plan ahead.
Find something that needs updating? Contact us to help keep the page current.
Menu items and prices are always subject to change.
Barking Dawg
The Bethel Resort & Suites - Breakfast
The Bethel Sugar Shack
Butcher Burger
CAMP at Sunday River
Cho Sun
Crossroads Diner
The Elizabeth Guest House & Restaraunt
Foggy Goggle at Sunday River
Gemini Cafe & Bakery
The Gem Theater
Good Food Store & Catering Co.
Gracenote Inn & Spa
Kowloon Village
The Local Hub
Loose Boots Lounge at Mt. Abram
Matterhorn Ski Bar
Mountain Social Kitchen & Bar
Millbrook Tavern
Ox Pub at Oxford Casino
Pete's Griddle
River Lanes
Rusty Lantern Market

(Formerly Mallard Mart)
Shipyard Brew Haus - Sunday River
Sliders at Sunday River
Smokin' Good BBQ
Steam Mill Brewing
Stony Brook Recreation
Suds Pub
Sunday River Brewing Company
The Clubhouse At Sunday River
Westside Beer Garden at Mt. Abram